Jimby 'Russ Berrie' Mason
New cousin Csimpi Jimby from Hungary/Austria August 24th 2014 Click here
I am meeting Cousin James Jimby in London June 18th 2013 Click here
January 2013 Bananas Jimby at Christmas New Photos Click here
December 2012 Jimby remembers his Bat out of Hell You Tube Video Click here
December 2012 Jimby updates Christmas Page with new and old Videos Click here
October 2012 Jimby meets Georgia Peach again Click here
I am a 12 year old Russ Berry Jimby living in England and now have many cousins all over the place who keep me up to date with their fun and games. Also there are 23 cousins living with me now in 2014.
My Girl Friend Georgia Peach Jimby lives in Atlanta Georgia USA and my learned friend James (but I prefer Jimby) Jimby is in Cleveland Ohio but does travel around a fair bit. Others are just as important and all are here to make you smile and even laugh out loud at times.
Cousin James Jimby in Cleveland with Cousin from Maryland
Celebrate Thanksgiving
Melton Mowbray Station where my favourate Ticket Man Works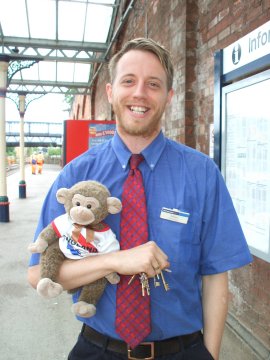 I think he is the best ticket man in the world!!!